Sanitary Napkin Baby Diaper Packing Envelop PE Non-Woven Film
Product Description
Breathable clothlike film for diaper use, a lamination film of diaper raw material
*Style, color, size, weight, materials, and packing can be customized as your orders.
*OEM & ODM service are available.
* Welcome to contact us, we can supply a free sample for quality test, the more information will available!
Application :
-- Back sheet for baby & adults diapers, back sheet or top sheet for sanitary towels & napkins
-- medical sheet, patient gown, operating cloth, examination gown, operation bed cover
Our film advantages:
1, Low density, the high utilization rate of the same quality of products, improve the competitiveness of the products
2, Small volume, light quality, high yield than under the same quality, greatly reduces the production cost of the product.
3, Excellent permeability, effectively isolate the moisture, the heat moisture
4, More close skin softness, good touch feeling, make your product more soft and comfortable
5, Best physical and mechanical properties, has excellent tensile and extension performance.


Testing Report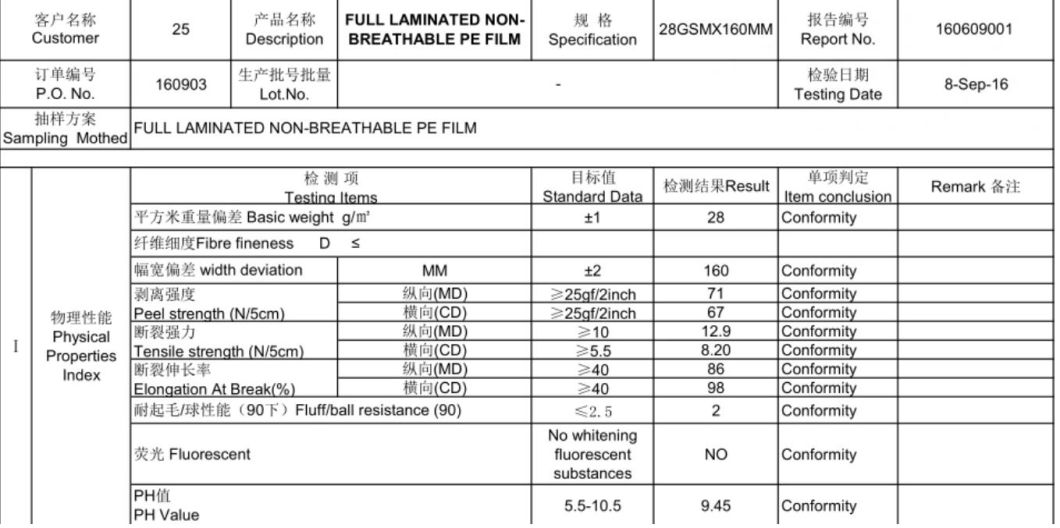 Packing & Delivery
Packing Detail:
1.Roll Packing, Outer packing in Carton or Transparent plastic bag

2.According to Customer's requirement.

3.Standard Export Packing
Delivery Time:
Within 20 days.
Port:XIAMEN
The application
they are widely used for
1. sanitary napkins/ sanitary pads, nursing pad, and pantyliners
2.baby diaper and adult diapers
Features
1. Absorption of water, oil and other liquids quickly
2. Standardization of packaging can reduce warehouse costs
3.Pointbreak style processing, easy to use
4.With a dedicated paper tray, and more convenient to use
5.Durable, cost savings
6.Fluffy, absorptive, soft, hygienic, good in touch, etc
Other material for diapers and sanitary napkin available:
1) PE film and cloth-like film materials
2) PP/MAGIC Side/Frontal Tape
3) Hot-melted glue(Spandex/Structure)
4) FLUFF PULP(treated/untreated, SAP)
5) Jumbo tissue paper(Upper/Lower Tissue Paper)
6) Non-Woven (Topsheet-Hydrophilic N.W./ leakage-Hydrophobic N.W.)
7) Spandex
8) Release tape for sanitary napkin
9) Released paper (winged/back of sanitary pad)
10) Sap absorbent paper
11) Outside PE bags/Polybags



Established in 1998.

25 backsheet production line.

3 non-woven producttion line.

10000 tons capacity per year.

Exported to 30 countries and cooperated with local trading comany.
Our company produces its own products, with the absolute price and quality advantages, and we can accurately control the production and delivery time. The products of many trading companies are bought from our factory.


Our Main Raw Materials of Diapers & Sanitary Napkins:
1) PE film / Lamination film (Cloth-like film)
2) PP side tape / Magic side tape and PP frontal tape / Magic frontal tape
3) Hot melt adhesive (Spandex/Structure) / Back glue
4) Fluff pulp (treated/untreated)
5) SAP
6) Non-Woven (Topsheet-Hydrophilic N.W./ leakage-SMS Hydrophobic N.W./ADL)
7) Spandex / Elastic waistband
8) Quick easy tape for sanitary napkin
9) Release paper (winged/back of sanitary pad)
10) Sap absorbent paper / Airlaid paper
11) Perforated PE film / Perforated nonwoven
1. Excellent waterproof performance
2. Best physical function
3. Non-toxic, tasteless and harmless to human
4. Excellent printing performance.
Type of Color Printed PE film
a. PE film (breathable and nonbreathable)
b. Embossed PE film (plain embossed and pressure embossed)
c.Laser PE film(breathable and non-breathable)
d.Printed PE film (can be many colors, indicator ink, full printing)
e. Silicone release film(used for sanitary napkins individual packing/wrapper)

1.Excellent waterproof performance
2.Best physical function
3.Non-toxic, tasteless and harmless to human
4.Soft and silk hand feeling
5.Excellent printing performance
6.Precise contraposition, rich and colorful, excellent visual effect


Products are widely used
Baby diaper
Adult diaper
Sanitary napkin

FAQ

1.Q.Are you a trading company or a manufacturer?
A. We are a professional manufacturer specialized in Baby Diaper, Sanitary Napkin, Adult Diaper, and other Hygiene Products. OEM & ODM service is available.
2. Q. What is your MOQ?
A. Mix 2 Size in 20FT, and 4 Size in 40HQ container. Support the LCL order.
3.Q. What is your delivery date?
A. The delivery date is about 5-15 days after receipt of payment.
4.Q. What are your payment terms?
A. 30% deposit in advance and 70% balance before shipment.
5.Q. Can you send free samples?
A. Yes, free samples are available and freight collect.