Plastic baler machine for pressing used HDPE PE PP PET bottle film bags paper
Why choose us?
1. Company own factory for better quailty control
2. Original Design Manufacturer for customized service
3. More than 15 years of successful experience in recycling industry
4. Turn-key project and oversea after-sale serivce
Introduction:
FDY series Intelligent baler machine using the hydraulic principle, it made the waste paper, cardboard, carton, waste plastic, cans, aluminum, coconut, used clothes, straw, tyre and other loose material compressed into a block, so that we can store, transport and utilize them easily expediently.
Hydraulic baler machine is widely used in Recycling center and Packaging plant, which has great effect on environment and resource protection.
It adopt hydraulic transmission, reasonable design, smooth running, simple operation.
Feed box volume, Bale size, Maximum Working pressure and Capacity of motor can be customized.
It can reduce storage space, saving up to 80% of stacking space. Reducing transportation and labor costs, also conducive to environmental protection and waste recycling.
With stable and durable design, the machine is suitable for Site work.
Product Description
Technical parameters for hydraulic baler machine:
FDY HYDRAULIC HORIZONTAL BALER

Main cylinder

Mode

Φ

220

Route

2500mm

Homemade cylinder

Pressure of hydraulic system

1500KN=150Ton

Feed opening size

1100*2000mm

Bale size

1100*850*L(adjustable1500-2000) mm

3 LINES

Bale density

500kg/m

3

Main engine power

30KW+5.5KW+4.0KW

Power supply specification

25m

2

soft copper

Strapping

12#iron wire or golden wire

Operation mode

Manual operation / linkage

Cooler

8m2

Production capacity

7 bales per hour

Hydraulic pump mode

Plunger pump 250ml/r*1

Gear pump 16ml/r*1

Fuel tank capacity

1.5m3

Conveyor

2000*9000 mm
Baling Material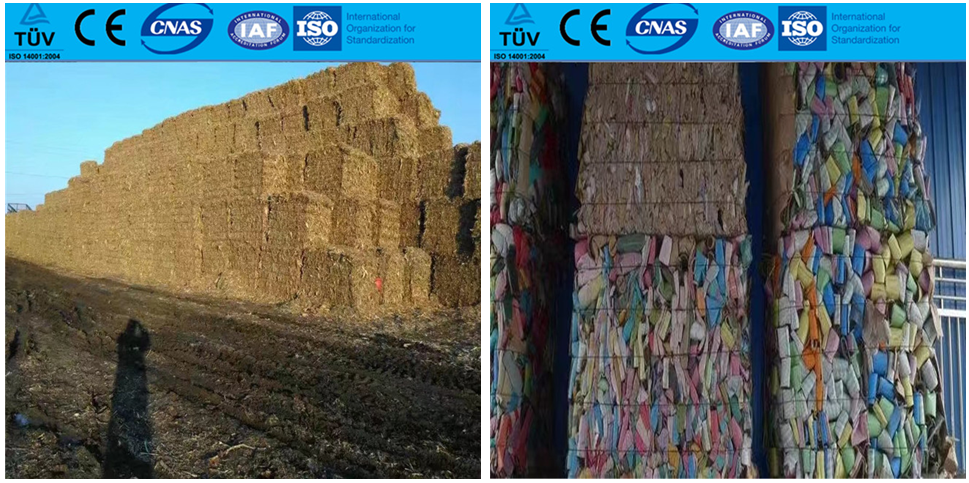 Advange of Qunfeng
1.The mainframe: shape steel and steel plate Q345
2. pressure head: pure-iron steel plate S20
3. The paper cutting knife: manganese steel.
4. Hydraulic system: split type, the Master cylinder and Auxiliary Engine control are separated.
5. Our hydraulic systems are patented part, The motor and oil pump are integrated.
6. The pressure of plunger pump has been increased to 31.5mpa.
7. The magnetic valve adopt National standard well-known brand from YUKEN.
8. The hydraulic cylinder is made by our own, using 300mm high strengthen military seamless steel tube
Company Information